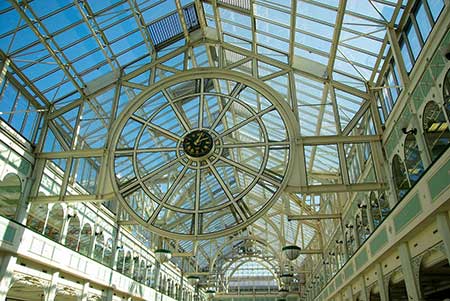 When visiting Dublin there are many places to shop, from the world-famous Grafton Street to the street markets on Moore Street and the many shopping centers on the outskirts of Dublin city.
Dundrum Shopping Centre
Located on the South side of the city, close to the M50 motorway. The Dundrum shopping center has a wide range of shops, from clothing to mobile phones. Once you're finished shopping you can relax at its cinema.
It's opening hours are:
Weekdays: 9am – 9 pm
Saturdays: 9am – 7pm
Sundays: 10am – 7pm
For more details please visit their website http://www.dundrum.ie
Blanchardstown Shopping Centre
Located just off the M50 motorway on Dublins Northside. The Blanchardstown center was opened on October 16, 1996 and is one of our lives largest shopping centers attracting 10 million visitors in its first year of operation.
The shopping centre features a wide range of restaurants, shops and entertainment facilities including the UCI cinema and restaurants such as Captain Americas, Eddie Rockets and TGI Fridays.
Grafton Street
Grafton Street is a pedestrianised shopping street located between Dublin's Trinity College and Stephen's Green. It features fashionable stores such as Brown Thomas, Weirs jewelers and many other famous jewelry stores.
St. Stephen's Green shopping centre
At the top of the street is St. Stephen's Green shopping centre, this high-class shopping center features many diverse stores.