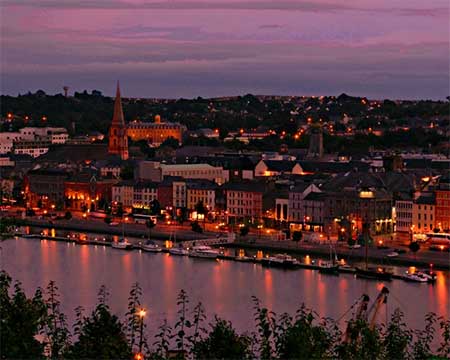 Nestled on the banks of the River Suir in the Sunny south east of Ireland lies Waterford city. Waterford City  is said to be the oldest city in Ireland, founded in 914, besting Dublin, Irelands capital city wich was founded by Viking traders in 1088.
The most convenient would be to take a trip by air which a lot of traveler do. The airport in Waterford is 6km south of the old city. The airport can be reached by certain locations in Uk, Europe when its summer season, and other global airports in Ireland. Car rental is easily available also.
Like most Irish city's Waterford is famous for its vibrant nightlife There are numerous clubs that stay open until very late and you can go have a taste of the various beers and spirits most of which are brewed in Ireland
Waterford is famous for its outdoor activities including Equestrian, Golf,  Fishing. Kite Surfing, Water Sports and much more. What ever you are looking for both  Waterford County and Waterford City provides the full vacation experience.
Waterford has own airport but if you want to see more of the country you can use the nearby Dublin or Cork's airports and travel via bus or train to Waterford. Waterford can be easily reached from any point in Ireland and is not far from the ferry port in Rosslare, Co Wexford.
Like other parts of Ireland, you can expect some wind and rain in Waterford while the wind is great for activities like kite surfing which you can do on places like Tramore beach. For other parts of the county bringing some rain gear would be advised while exploring this beautiful county.
The city has Gorgeous Scenery as well as Houses & Gardens, where grace and appeal can be appreciated at leisure, belong to a rich heritage that includes Pre-Historic & Historic Sites.
Between are peaceful and vibrant Beach Resorts like Tramore, the magnificent Copper Coastline Geopark and charming mountain & river valley towns and towns.
Waterford could overwhelm tourist because of its relaxing vibe compared to other bigger busy cities of Ireland but this historic city has a lot of pubs, clubs and restaurants as well..
Waterford is a great place to visit and you are sure not to be bored there.