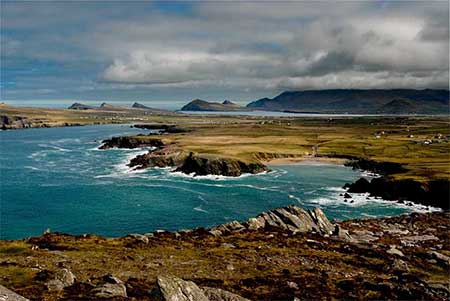 While you're checking out Ireland, you will certainly stumble upon the name of Kerry County extremely regularly, that is because Kerry has lots of Tourist destinations. There is Muckross House in killarney, the extremely picturesque Ring of Kerry drive and all the towns through it. Also known as  as the 'Kingdom of Kerry', County Kerry is located in the south-west of Ireland. The main county town is Tralee.
From Kerry Airport, a local airport centrally situated in the heart of County Kerry, you can hire a ar so you an explore the beauty of this outy with no restritions on how muh time you spend in eah place.
These is so much to see in County  Kerry,  its mountains, lakes and Atlantic shoreline is amongst the most picturesque locations in Ireland and is amongst the most beautiful destinations in Ireland.
The culture of Kerry has maintained a true Irish culture. The unique culture of the mostly farming families offers a special and very warm welcome to visitors from all over the worldr.
An extremely warm welcome from the residents is not the only reason why the number of travelers visiting Kerry is growing every year. County Kerry also offer is small fishing towns, early Christian ruins, Ireland's tallest mountain and many different sites to see.. There are fantastic gardens in Kerry that is open for visitors too.
Horse riding, water sports, fishing, mountain biking paths, h popular leisure activities readily available in abundance in the kingdom of Kerry.
Dingle
At the edge of Dingle Bay you will find the fishing town of Dingle. This is amongst the leading tourist destinations in Ireland with its narrow, winding streets and picturesque harbour.
Obviously, no reference of Dingle can start without admiring among its most well-known locals – Fungi, the Dingle Dolphin! Having actually seen Dingle Bay years back, Fungi then decided to live in Dingle Bay. You can get a boat trip out to see him and watch him jump in front of the boat to welcome you
The bars in Dingle are well-known for their really warm welcome and Dingle  has numerous clubs where you can enjoy the music and food and craic.